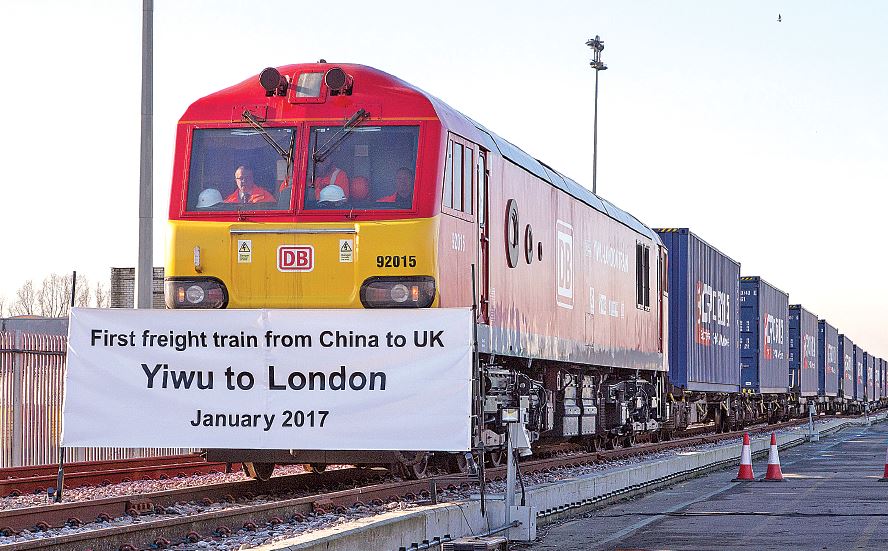 UK firms securing more deals on projects linked to Belt and Road
On the shores of Maputo Bay in Mozambique, workers are busy putting finishing touches to the Maputo-Catembe bridge, Africa's longest suspension span, which is due to be completed later this year.
The $725 million bridge will cut four hours off the drive time from the South African border to Maputo, and enhance trade and tourism between South Africa and the rest of the Southern African Development Community, an organization of 12 southern African states and Madagascar, Mauritius and the Seychelles.
The project, the biggest since Mozambique's independence from Portugal in 1975, was mostly funded by the Export-Import Bank of China and built by the China Road and Bridge Corporation, but British companies have played a role.
The engineering company Arup acted as consultants to the Chinese bridge designers CCCC Second Highway and helped it fulfill the Eurocode regulations for steel and concrete structures.
Arup's participation in the Maputo-Catembe bridge is one example of the latest trend of British engineering consultants, architects, law firms and banks securing business deals linked to infrastructure projects in economies along the Belt and Road Initiative.
During her visit to China, British Prime Minister Theresa May said the UK and China would continue to work together "to identify how best we can cooperate on Belt and Road across the region and ensure it meets international standards."
The B&R Initiative is an immense series of infrastructure products that will enhance China's links with Asia, Africa and Europe. The total cost is estimated at between $4 trillion and $8 trillion and while much of the capital and labor comes from China, it is looking for other nations to work with.
British legal firm Linklaters has given legal advice on more than 40 B&R deals while Herbert Smith Freehills has advised B&R projects in more than 30 countries, with clients including the Silk Road Fund, Poly-GCL Petroleum Group Holdings and Beijing Gas Group.
London-based BMI Research uses its economics data and analysis to advise some of China's largest infrastructure, power and manufacturing companies, including the State Grid Corporation of China, China International United Petroleum & Chemicals Co and the telecommunications giant Huawei to make investment decisions in B&R economies.
Stuart Salt, a partner and global head of project finance at Linklaters, said the B&R Initiative offers great possibilities for British businesses.
"We have barely scratched the surface of what is possible under this initiative," he said.
In 2013, President Xi Jinping raised the concept in a speech at Nazarbayev University, in the Kazakh capital Astana, when he suggested that China and Central Asia countries revive ancient trade links to build a new Silk Road economic belt, to improve economic ties between the Eurasian countries.
During the next few years, the initiative gained speed, with more than 100 countries and international organizations backing it, and more than 40 signing cooperation agreements with China.
The British government has keenly supported the initiative. The government agency UK Export Finance said it would support British companies' work on B&R projects with 25 billion pounds ($34 billion) of finance.
Companies applying for this funding need to source at least 20 percent of product value from the UK. International Trade Secretary Liam Fox said that the funding was made "so that no viable export fails for a lack of funding".
Last December, UK Chancellor Philip Hammond signed an agreement with Asian Infrastructure Investment Bank President Jin Liqun to contribute $50 million to a special fund within the AIIB.
While the AIIB does not invest exclusively in B&R projects, many of the infrastructure schemes it backs are in B&R economies.
The UK Treasury confirmed that Britain will make the payment in four equal amounts of $12.5 million from 2018 to 2021, with the first payment to be made in March.
"We are taking the necessary steps to pay, and we remain very committed to the Special Fund and to the AIIB as a new multilateral," said a Treasury spokeswoman.
In 2015, Linklaters started advising three Chinese banks and 11 Pakistani banks to provide $1.95 billion of financing to Pakistan's Thar Block II coal mine and coal-fired power plant. Their financing through both the US dollar and Pakistani rupee meant that legal contracts involved English law, Chinese law, Pakistani law, and the law of the Dubai International Financial Center.
Linklaters worked for more than a year to finalize the legal documents and satisfy all stakeholders' requirements. It also worked with the lenders' other advisors to prepare risk analysis documents. The first phase of the project, to be completed next year, will create 660 megawatts of electricity per hour, and significantly increase Pakistan's electricity generation while reducing the country's reliance on imported energy.
Just like the Thar Block II coal mine and coal-fired power plant, many B&R projects require complex legal contracts across multiple jurisdictions, said Salt.
"Executing them successfully requires not only technical expertise on the legal issues, but also a deep network of local law capabilities across the regions involved, and the ability to work with partners coming from very different cultural and commercial backgrounds," he said.
The engineering consultancy Mott MacDonald, which employs more than 16,000 staff in 50 countries, has advised on hundreds of B&R infrastructure deals.
One example is the Songo Songo Gas Field gas plants in Tanzania, which involved the construction of an offshore gas plant in the small island of Songo Songo and a subsea pipe to link it directly to the country's biggest city, Dar es Salaam, and the Ubungo power plant that generates about 50 percent of Tanzania's electricity.
Mott MacDonald was an engineering subcontractor for the project and responsible for providing detailed design for the gas plant and subsea pipe, and gave project management support to China Petroleum Engineering Co, which is the project's main contractor.
Wang Aijuan, power director at Mott MacDonald, said British companies' long history of working on infrastructure projects in developing markets gives them an edge.
"Chinese and British companies are well suited to work together," she said. "Chinese companies have a willingness to go abroad and build infrastructure projects. UK companies deliver high-quality engineering works and have in-depth understanding of the stringent regulatory regimes in the international markets."